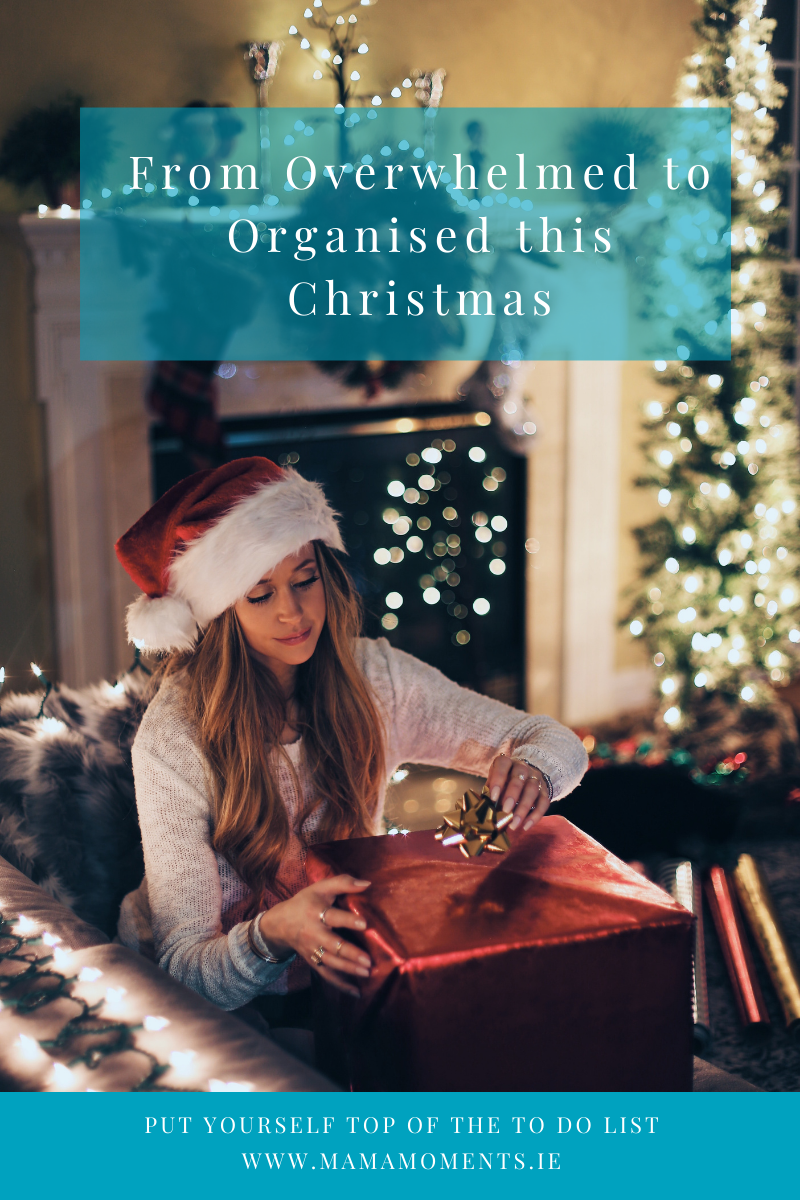 Christmas is exhausting even before it begins. It can be incredibly overwhelming with weeks (possibly months) of planning, organising, and sorting. How many of us are left to buy all the Christmas presents, remember what we gifted last year, and fall under a bundle of wrapping paper, tinsel, and Christmas cards? A lot of us. It's often left to mum to take on the extra load of the festive season. Not only does it fall to us to decorate, make sure the fridge is packed with treats for those cosy nights in with a Christmas movie, but we're also expected to create an atmosphere and turn on the bright lights of building up the joy and merriment of the Christmas build-up. We are possibly already overwhelmed as mothers, throw in Christmas, and it's anyone's guess how we don't end up as Scrooge or the Grinch as the weeks count down. So how do we go from overwhelmed to organised this Christmas?
Make a List (and a few more)
Lists are simply the best way to get everything out of your head and onto a visible page. And with Christmas, there is more than one list. The gift list. The Christmas card list. The teacher presents list. The food list. The decorations list. The things we want (but probably don't need) to make it festive list. The cleaning list. The guest list. The advent list. The everything else list. They go on and on and on; it's no wonder we are overwhelmed by all there is to do to have a traditional Christmas. The only way to make sense of it is to make a list and delegate with all the extra tasks.
Firstly, decluttering our heads of everything we "have to" do is the best way to not only figure out what needs to be done but when. Break down each task on every list into smaller, more manageable tasks and schedule them in your diary. Actively cross off your list as you go. If Aunt Mary's present is wrapped and under the tree, it gets a big old tick. Not only is this immediately satisfying, giving you an endorphin hit, but it's the perfect way to keep on track with less stress and overwhelm.
Try not to give yourself every to-do item on your list. Learn to delegate and spread the workload and after you make your lists, take a good look at them. Is every single thing necessary? Cross it out if it's not. If you can lighten the load in this way, then that is great. Otherwise, hand out jobs to your other half and older children. There is nothing to say that mum has to do it all, so share the responsibility of Christmas.
Take a Step Back
If those lists look extremely daunting and take all of the fun out of enjoying the run-up to Christmas, then take a step back and get some perspective. Would it hurt if you didn't send out Christmas cards this year? Do you need to say yes to every invitation? Do you need to stand in a queue to pay for the candle you are buying aunt Maureen or could you order it online from the company? Christmas asks so much of us, but is it all really necessary? Would it really not feel like Christmas if you didn't do a Christmas Eve box this year?
When you make your list, remember to take a step back and figure out what is a non-negotiable for your family Christmas traditions. Is there anything that can take a back seat this year?
Plan Ahead
And while you're at it, keep a copy of those lists for next year. Yes, the Christmas card list may change a little, but your forward-thinking will save a lot of overwhelm and stress as you gather your plans for the following year. And by putting some festive strategies in place now, you will find the overwhelm of next year will be less as you learn to say no to some of those invitations or tone down the Christmas Eve preparations.
Remember What Makes Christmas for You
The perfect Christmas rarely exists, and it's a good idea for us not to plough headfirst into the festive season expecting it. We can only do and manage so much, usually in a very short time frame. We can avoid piling on extra work and stress on ourselves by realising that matters most. It's not the presents under the tree or a perfectly cooked ham sitting front and centre on the dining table. Christmas is about our togetherness which, thankfully, this year will be closer than the last.
Remember what makes Christmas for you and refocus your idea of Christmas to those aspects of the holidays without adding extra pressure on yourself. So, ditch the Elf on the Shelf if he clutters up your head, and forgo the ice skating or festive shows if planning a trip out is overwhelming. You may find that scaling back will lead to one of the best Christmasses yet.
Finally, Christmas is full of tradition, but traditions are made and always start with that one time. So, make homemade gifts with the kids this year, opt for experiences over gifts from grandparents, share the load with a family get together and ask everyone to bring a dish, or write a bucket list with the kids of the things you would all like to do together this December. Christmas is about family, friendships, being grateful, and recognising the importance of presence over presents. So, consider what will make this Christmas memorable for you and your family, not because we are told to celebrate a certain way.