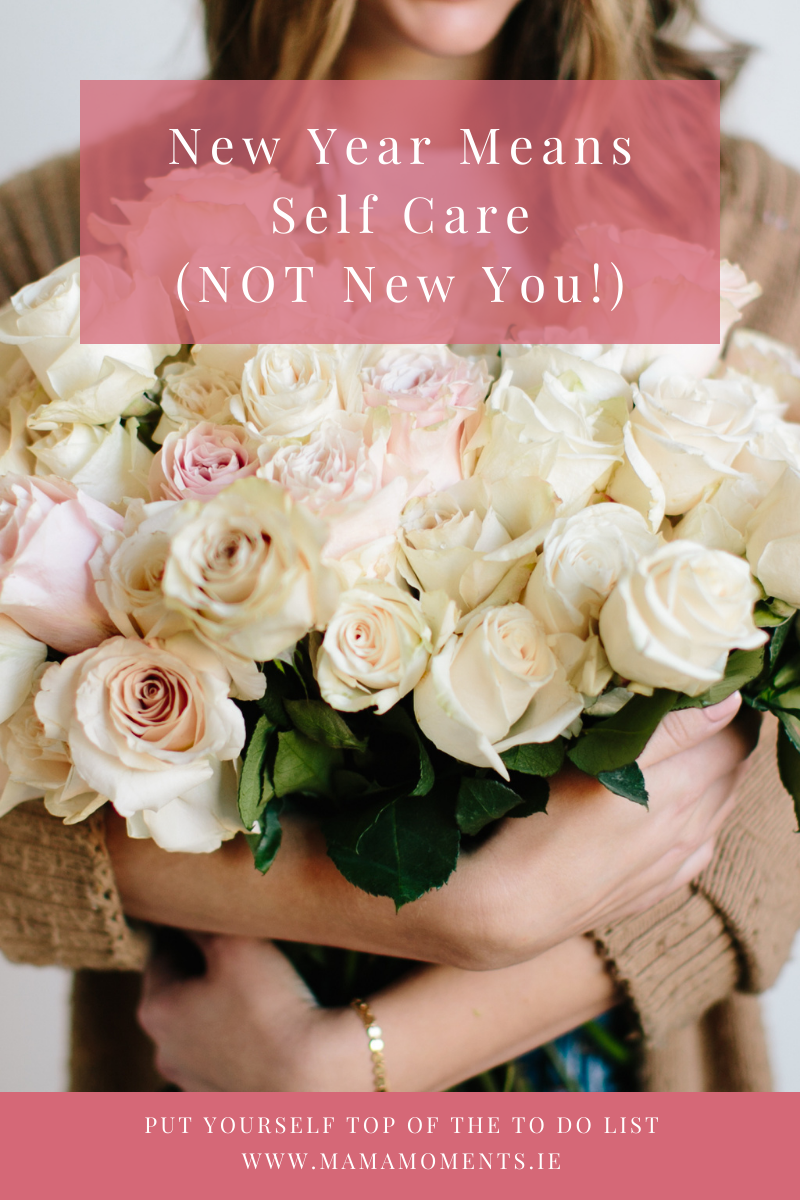 It's the new year, how did that happen?!
I know you have probably already been inundated with new year advertising and emails. Probably promoting weight loss, habit changes, goal setting and new career or business strategies … "new year new you" and all that.
Well it's 2022, and that shouldn't be what the new year is all about!
In fact, I get so frustrated with this type of advertising!
It promotes the idea that there is something wrong with the version of yourself that you are now.
So I'm here to say … there is nothing wrong with you.
You may have new plans or new goals, and there's absolutely nothing wrong with that (I have them too!) but to me this idea of 'new year, new you' promotes negative self-talk and self criticism which is very unhealthy for your mental health.
So this new year let's be kinder to ourselves.
We've just had a mammoth two years of uncertainty and really difficult times, and we're just out of Christmas. I can't be the only one feeling a bit knackered and deflated by everything we've gone through … while still feeling a little excited and ready for what this new year has to offer?!
Just like at any time of the year, self care must be taken seriously and make its way back to the top of the list of priorities again.
I've spoken before about how self care should not be viewed as a 'reward' and instead we should prioritise it so that we move through our day from a nourished place, not a place of lack and 'running on fumes.'
So today I'm taking a look back at the Mama Moments blog and highlighting the key self care messages I would love you to take into the new year with you … to give you a friendly, gentle reminder to mind and look after yourself.
Rewards are certainly motivating. There's nothing like settling down to the next chapter in your book with a hot coffee after ploughing through the list, or giving yourself a good pat on the back from catching up on yesterday's chores, and you promise you'll take some time out for yourself once it's all done.
There are a few problems in waiting for that reward, however. The biggest being the fact that if we wait, it may never happen. The second being, we often use that reward as our moment of self-care which firstly, defeats the purpose of self-care and secondly, again, may never happen.
There are times when we hold back on self-care as a way to encourage ourselves to tackle certain jobs quicker and better. This again is significantly counterproductive and negates the very reason we practice the art of self-care. In fact, it shows we don't really know what self care is. What I really want to get across to you today, is that self-care is not a reward, nor should we see it as such.
Waiting until we are satisfied we have done enough on the list is in a manner postponing our self-care. This gives more weight to the list rather than our needs and diminishes our instinct to care for ourselves.
Self care should be mandatory and not dependent on another activity. Our lives as busy mums are full of endless tasks, many we don't complete. Self care must be a definite in that busy day of yours.
Find out the two essential reasons why we shouldn't use self-care as a reward by reading the full blog here.
From two years of lockdowns, we now see the world attempting to find its new normal. As this happens, we need to be perpetually aware of our energy drains and how we can store our energy in this once again increasingly busy life. We need to be more proactive in nurturing our energy as many of us have swapped that fast-paced life for a more mindful and balanced one. In many ways, there is one simple answer to this - Slow Living.
Slow Living essentially encapsulates the idea of living in a more balanced and meaningful way. Whether you see that as reconnecting with our inner selves, our priorities, and natural energy, or slowing our pace of life in all aspects including how we eat, what we wear, what we do and how we connect with the world around us.
We need, and want everything to be done quicker, faster, as we live in a now! now! now! society. Slow living encourages us to recognise everything around us. It teaches us to be mindful, to connect and reflect on what we have and change our mindset towards optimism, confidence, and change, and everyone can adopt an element of slow living in their lives.
Find out how you can embrace a slower life, by reading The Art Of Slow Living blog here.
The Mindset Shift That Completely Changed My Energy
Our energy is in an increasing state of flux as we manage our day. We are constantly shifting from our workload, managing the household, and parenting, propelling and slowing as our energy fluctuates hour by hour. Sometimes minute by minute, especially if the kids drain us with tantrum after tantrum!
Restoring, moving with, and aligning ourselves with our energy takes some effort but most of us tend to simply roll with it, flying and crashing with each soar and dip. We can be filled with intense energy or a negative drive, but we can also lean in and understand our energy to live our best life and become unstuck.
My own personal shift came when I recognised my need for calm over intensity, which occurred as a result of a period of poor mental health. I worked my way through understanding my mental health and ways to support my wellbeing, with help from counselling, journalling and finding new ways to manage different situations I found myself in.
As a result, I realised my selfcare has very much been embedded in remaining calm, avoiding stress, excess noise, and anything which could damage or alter my serene state of mind. For me, my self care routine would include calming my mind and slowing my energy by doing yoga, meditation, and listening to acoustic playlists. By creating that relaxed and chilled environment, I was attempting to smooth everything out and balance my energy to an even keel.
To find out more about how a shift in mindset can improve your energy and wellbeing, click to read the blog here.
A Hug In A Box
And to give you that little bit of extra encouragement to regularly practise self care I have a bimonthly mama self care subscription box.
This unique subscription box was created to remind mothers that we are important too. That we cannot pour from an empty cup and that self care is an important part of looking after our mental health.
Self care is not a luxury, but a necessity, and it's a lot easier to keep all the balls in the air and be there for the people we love if we've allowed ourselves even 5 minutes with a cup of tea to recharge.
Find out more about the mama subscription boxes here: