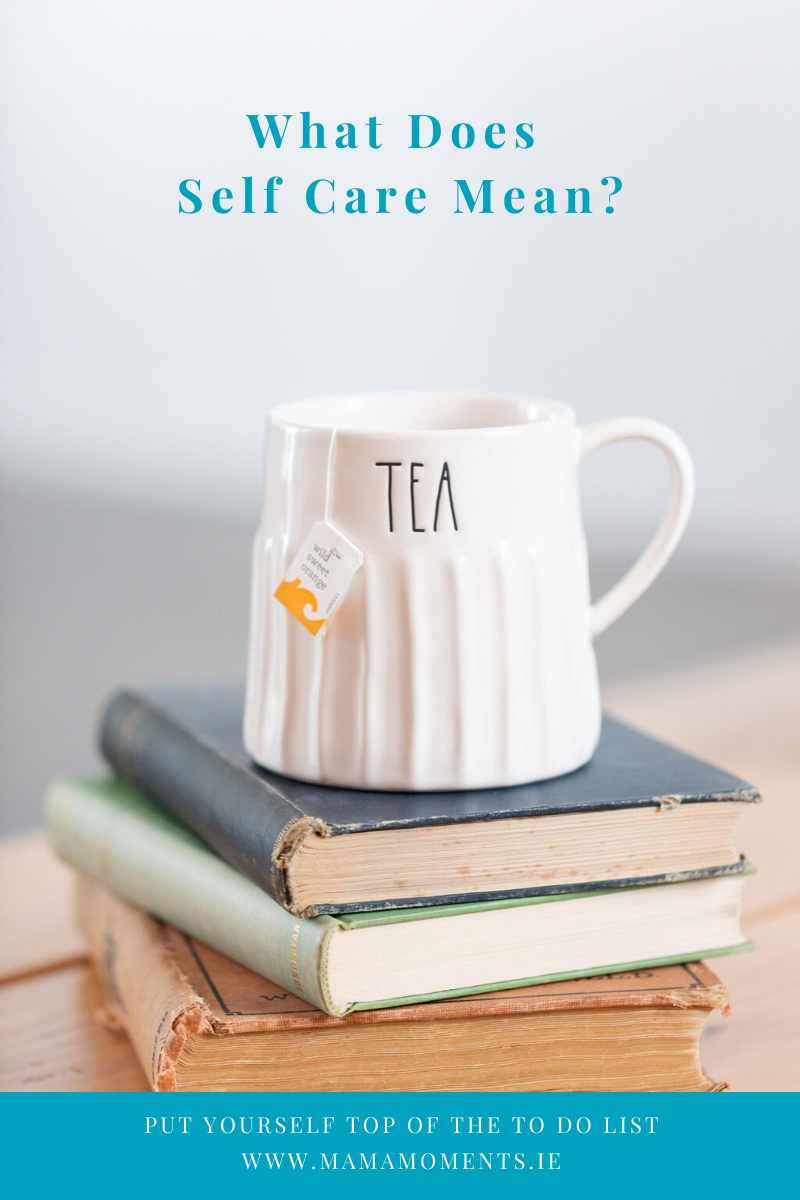 Since starting Mama Moments last year I have been asked many times what self care is. There are a lot of misconceptions about the term. Lots of people seem to think that self care is an expensive spa weekend away. Many people have had doctors or family encouraging them to remember their self care, but they are so overwhelmed by motherhood that self care ends up another thing on the never ending to do list that they feel pressured to tick off. Completely counterproductive!
The Big Secret
So here's the thing…
 
Self care is as individual as you are. Self care means something completely different to you and me. It depends on many things, including the type of person you are, how old your kids are and your current state of mental health.
If you're a first time mother with a 4 week old and feeling completely exhausted, then letting your best friend mind the baby while you have a shower and a nap is self care.
If you are struggling with depression, anxiety or another type of mental illness, going to a therapist is self care.
If you are an extrovert with two young kids who can't remember your last night out, meeting up with friends for dinner is self care.
If you are an introvert and a stay at home mom who never has two seconds without a tiny person pulling at her, a hot bath and a book with some gentle music playing  is self care.
What Makes You Feel Nurtured?
You need to think about what makes you feel most nurtured. What are the activities that help you feel like you have recharged your battery? Your best friend swears by meditation but any time you've tried it you end up completely stressed out? Then don't do it! It's ok to be different to your friend.
 
Self care doesn't have to be quiet time and pampering. It can be about being more pro-active in your life to remove the things that stress you out and help your weeks flow more smoothly.
 
Not a morning person but your kids are up at 6am bouncing off the walls? Set up a simple activity before you go to bed the night before (Instagram and pinterest are great for ideas!) so that you can steer your kids in that direction and you can have a cup of tea in peace while you wake up fully.
 
Maybe you find yourself stressed out at 5pm every day trying to think of what you'll feed everyone for dinner? Self care can be meal planning and batch cooking at the weekend to take the pressure off during the week.
Self care can be so many things ….
Having a bath
Going to the GP
Asking for help
Going for a run
Putting fresh sheets on the bed
Meeting a friend for coffee
Having a date night
Seeing a counsellor
Taking your medication
Washing your hair
A night out on the town
A yoga class
A long skin care routine
Batch cooking
Painting your nails
Reading a book
Planning for the week ahead
Setting up activities for your kids so you can have some quiet time
A night away
Listening to music
Updating your budget so you know where you stand financial
Going to the beach to breath in the sea air
Letting the kids watch a movie
Buying some flowers for yourself

The list is endless. So don't worry about what other people think self care is. You do what makes you feel good. That's all self care is after all, it's looking after yourself.