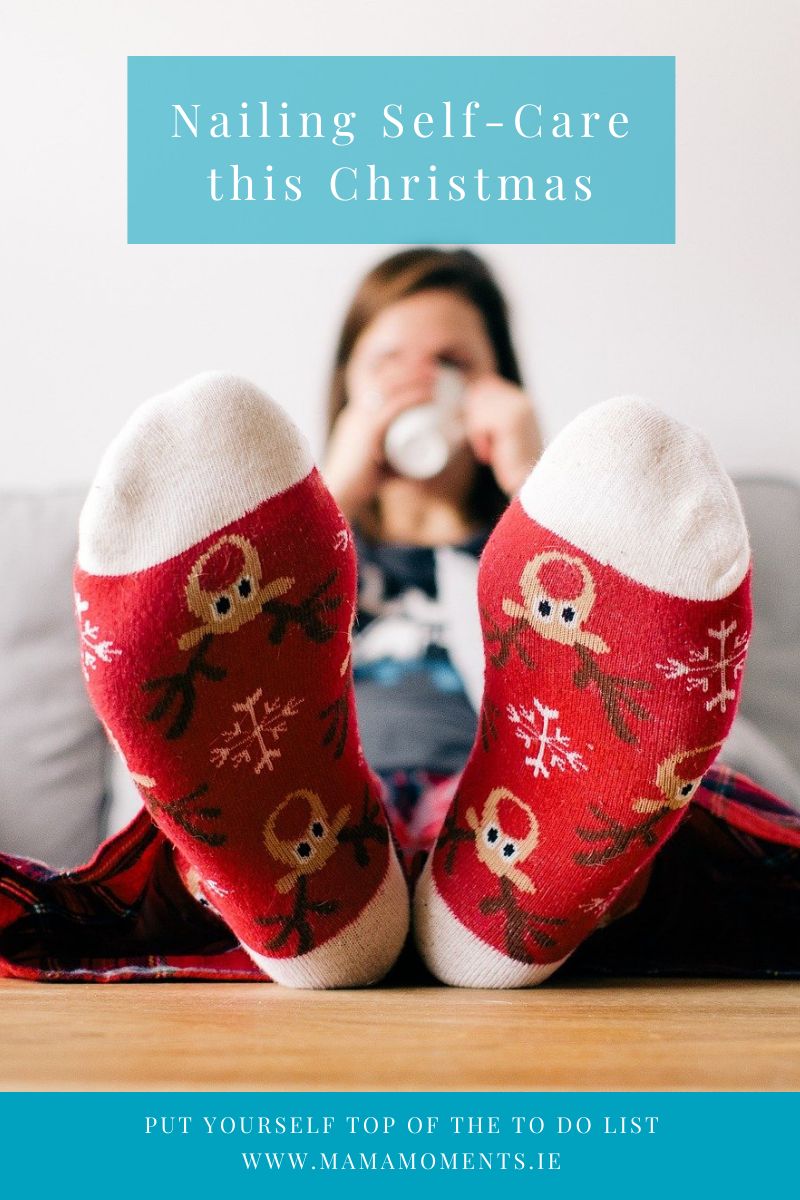 We make the lists, wrap the presents, prep the menu, move the Elf, create the atmosphere, hang the decorations, tune in Christmas FM, and ring the sleigh bells at midnight on the off chance the eyes of a little one peep open. We juggle all the jingle bells, and, like the Christmas tree topper, we oversee a considerable amount of the festive prep, making sure everyone has a memorable and wonderful time.
However, have you noticed that as the days progress, the angel who sits on the highest tree branch can start to look a little crooked, slightly falling, or even possibly hanging on by one pine needle?
With so much going on at Christmas, there is one very important and decidedly necessary thing that we may forget.
Ourselves!
Self-care at Christmas is a prerequisite, but it doesn't come packed with the Christmas decorations, so how can we nail our self-care this Christmas?
Notice Yourself
You are not the decoration shoved to the back of the Christmas tree because its paint is peeling off. You are the tree topper, and whether you are an angel or a star, you are one of the most important parts of Christmas.
Start your Christmas self-care by noticing yourself, recognising how much you do, how good you are at it, and how necessary you are. Recognise how essential it is to put yourself at the top of the list and take the time to care for yourself.
What will make this Christmas special for you? How will it all come together? Who will you ask for help? When will you give yourself time to rest?
Notice yourself, and be sure to include your needs this Christmas.
Spread the Celebrations Out
Between Christmas Eve, Christmas Day, and St Stephens Day, there is a lot of festive frolicking happening in such a short space of time. Everyone wants to be together for the important days, but there are more days beforehand and between Christmas and New Year. Spread the celebrations out, so you don't become excessively overwhelmed by the constant nature of entertaining and being on form with sensory overload. Recognising and validating your needs when celebrating with friends and family is an exceptional way to care for yourself this Christmas.
Go Kid Free
Yes, I know Christmas is a time of family, togetherness and has a special appeal sharing those Christmas films and building Lego with the kids, but our self-care at Christmas can come at a cost if we are not given some kid-free time.
Organise some childcare so you and your partner can get out for a celebratory drink together or meet a friend for a Christmas cocktail or two.
Time by yourself is also something you should consider. Go for a walk by yourself. The dog can even stay at home! This time is for you and you alone.
Clearing your head away from the chaos of the wrapping and tinsel is essential to keep you centred, care for your wellbeing, and give you that much-needed breathing space to rest.
Focus on Gratitude and Giving
We know how amazing being grateful and showing appreciation is for our wellbeing. It increases our optimism, helps us to connect with those around us, and improves our relationships. At Christmas time, there is a special kind of gratitude as we give and receive gifts, spend quality time together, and think about the past year and everything we are grateful for.
Showing gratitude at this time of year can include writing Christmas cards or letters with separate 'thank you' or 'thinking of you' notes to your loved ones. Visit someone and thank them in person. Or keep a daily journal and contemplate on what you are grateful for.
Dance, Sing, Work Out
Our routines and schedules can fly out the window with the two turtle doves at Christmas. To avoid that sluggish feeling, get active.
Have a kitchen dance party with the kids, try out karaoke for a workout of giggles, or simply go for a run, do your daily yoga, or play Just Dance with the kids. Keep active, and you may find that you are working out some of the pent up stress that builds over the holidays.
Disconnect and Reconnect
To embrace togetherness this Christmas, disconnect from your phone, your laptop, the constant notifications, and leave work at the office.
Step away from the hyper-connectedness of the world and return to the insular world of your close and meaningful connections with family and good friends.
Look around you instead of at a screen and reconnect with those you love.
Get Outside
No matter how amazing indulging under a festive throw with the tin of Roses sounds, try to get out.
The brisk winter air is exactly what we need after days under twinkling fairy lights. The magic of Christmas is outside as much as in. So wrap up warm and make a point to notice the joyful Christmas spirit in the frozen puddles, the dew-laden spider webs, the sparkling lights in windows, and the misty frost as you breathe deep wintery mindful breaths.
And Remember…
Saying "no", rearranging plans that don't work for you, and taking breaks from all things festive, are all positive ways to refocus your attention on yourself and what you need out of this holiday.
So be kind to yourself and decide your own schedule, on your own terms, with the people you love most.
This Christmas, eat well, take a nap, be intentional, care for yourself, laugh, opt-out or in, make memories, read a book, regift, forgive, say goodbye to guilt, and redefine what Christmas means to you.
Breathe and let go of the responsibilities that overburden you.
Let go of perfection and find the blessing in the mess.