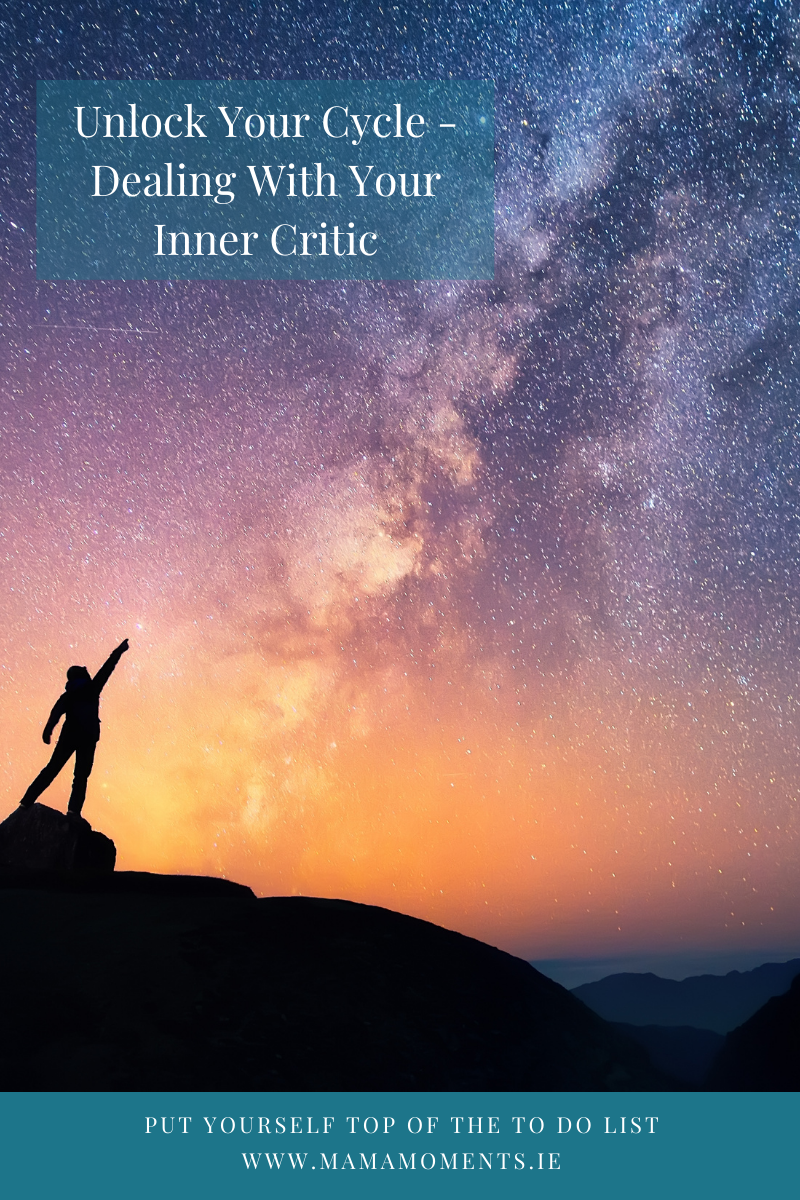 However, it can also be a bit of a bitch, so we often have a full on game of tug of war with this inner voice who seems to do nothing practical but berate us. But much like our cycle, it is a little misunderstood. The thing is, our inner voice, is quite a big part of our cycle and our lives and for a particularly important reason. So, let's figure out how to balance that well-meaning critic and use it to our advantage.
What Is Our Inner Critic?
I'm sure you have heard other mothers chatting about Mum guilt. We've all been there, battling the arguments of would, could, and should and fighting with ourselves. This is basically our inner critic, and its primary job is to judge us. It's certainly not your best friend considering the inner critic shows up to judge us on all sorts of things, but when it comes to being a mother, this inner voice goes for the juggler and bites down hard on motherhood, a lot. Which can, of course, be very upsetting when we are doing our absolute best.
What would you say if I told you the inner critic is actually a normal part of your cycle?
In fact, its natural home is in the luteal phase when we are asked to pay more attention to our goals, our life, and our long-term needs. During this phase, it can actually play a vital role in our cycle and therefore in our lives as a whole. It helps us to build on our inner authority and our capacity to fulfil our true calling in life.
There are times when this inner voice gate crashes during other phases of our cycle which is not helpful at all because we are not in the best position to tackle it appropriately. It really should not step out of line and should stay in our luteal phase. By practicing menstrual cycle awareness as we have been chatting about the last few weeks, we can restore this inner critic to its rightful home in the luteal phase if it ever wanders out of place.
Creating Boundaries with Our Inner Critic
In the first two phases of our cycle - the follicular and the ovulatory phase - our energy and optimism are at their highest. As such, we are at our least sensitive and are less susceptible to the judgement our inner critic may spit out even if it does show up.
As we transition from the ovulatory phase to the luteal phase it can feel like hitting a speed bump where our inner critic is concerned. Suddenly, life doesn't look so sunny, our optimism sours, our energy flags and those doubts or wobbles start to creep in. We hear the critic more at this stage because we are more permeable, vulnerable, and open to listening to her.
Amazingly, when we arrive at menstruation, just when we think we can't take any more from the critic, it seems to slip away and go quiet. Its job is done for another cycle. "What job?" you may ask. Our inner critic is there to ensure we are living as we should be, want to be, and not following someone else's path. It encourages us, in perhaps a difficult and divisive way, to live our lives our way.
Like all tyrants, the critic knows no boundaries and will show up day after day if you allow it. This is most certainly not good for our mental health as the critic is quite an exhausting being. It isn't interested in tiptoeing around us to gently make its point. It is loud, brash, blunt, and appears to be very much attacking us. It will say things that are over the top, unfounded, and things which are not easy to hear. It pretty much spoils the party but as I say, it has its purpose.
It delivers those wake-up calls we often need, it pushes us towards our goals, and encourages us to take those healthy and necessary risks for us to live our best life. In many ways it has our best interests at heart.
When we move away from the luteal phase, we can often feel a release, an intense grounding as we feel love passing over us and a calm outside of listening to the inner critic. If we don't feel this easing, we may be more tired, permeable, and more raw than usual. This may be because we didn't honour our phase and lived within that high octane energy the ovulatory phase offers but which the luteal phase rejects. If the inner critic is not shown the door, we may not have rested enough as needed.
To keep the inner critic in its place, inside the luteal phase, we need to give ourselves permission to live in this cyclical way and honour each phase. The more we do this, the more we can contain the critic in its correct place and set boundaries on when we are open to listening to it. That's not to say I enjoy the critic showing up in the luteal phase, but I know it has its place there. And possibly more importantly, I know it will slip away after doing its job for another cycle.
Create your own boundaries by:
Recognising when your inner critic is talking
Telling it "enough" so it will stop and you control the inner conversation
Letting your critic know you have authority over it
Talking to Our Inner Critic
If you can face it consciously, it's a good idea to talk to your inner critic as if it were a small child. Ignore its brutal delivery but acknowledge its worries. Try to extract the fears, worries, or concerns it is trying to voice and then by alleviating them you will find it drifts away. When we fight against our inner critic, it will often ramp up a gear and appear to be attacking us even harder. By listening and understanding it, we can navigate its message.
Journaling is a great way to try to understand what our inner critic is saying. By laying out the words, thoughts, fears, and anxieties we can understand what it is the critic is trying to encourage us with. The critic is our passport to a mature and discerning life. It takes incredible strides to help us find our truth and a distinct courage to follow a path which may be fraught with challenges. It is effectively, a catalyst to help us refine our life and drill down to the essence of who we are.
By talking to your inner critic:
You sort the wheat from the chaff - recognise when your inner critic is spouting ridiculous statements and when it is talking about valid and legitimate things you need to hear
Know your inner critic is quite adamant to be heard and won't give up. Keep listening, keep sorting, and develop your own strategies for returning your critic to it's appropriate phase.
Standing Up to Our Inner Critic
If the inner critic is like a lost dog following us home, and moves with us into our menstrual phase, and beyond, we have a job to do to keep it in line. By bringing more awareness to our cycle and the way we look after ourselves as we pass from one phase to another, we can keep our critic in the luteal phase, manage its voice when it's there, and not allow it to take over.
Dealing with our critic can be challenging and sometimes we need extra help to manage the upsetting nature of this voice. A trusted friend, a women's circle, or a counsellor who can support us as we learn to stand up to the critic is greatly beneficial.
Unlock Your Cycle Blog Series