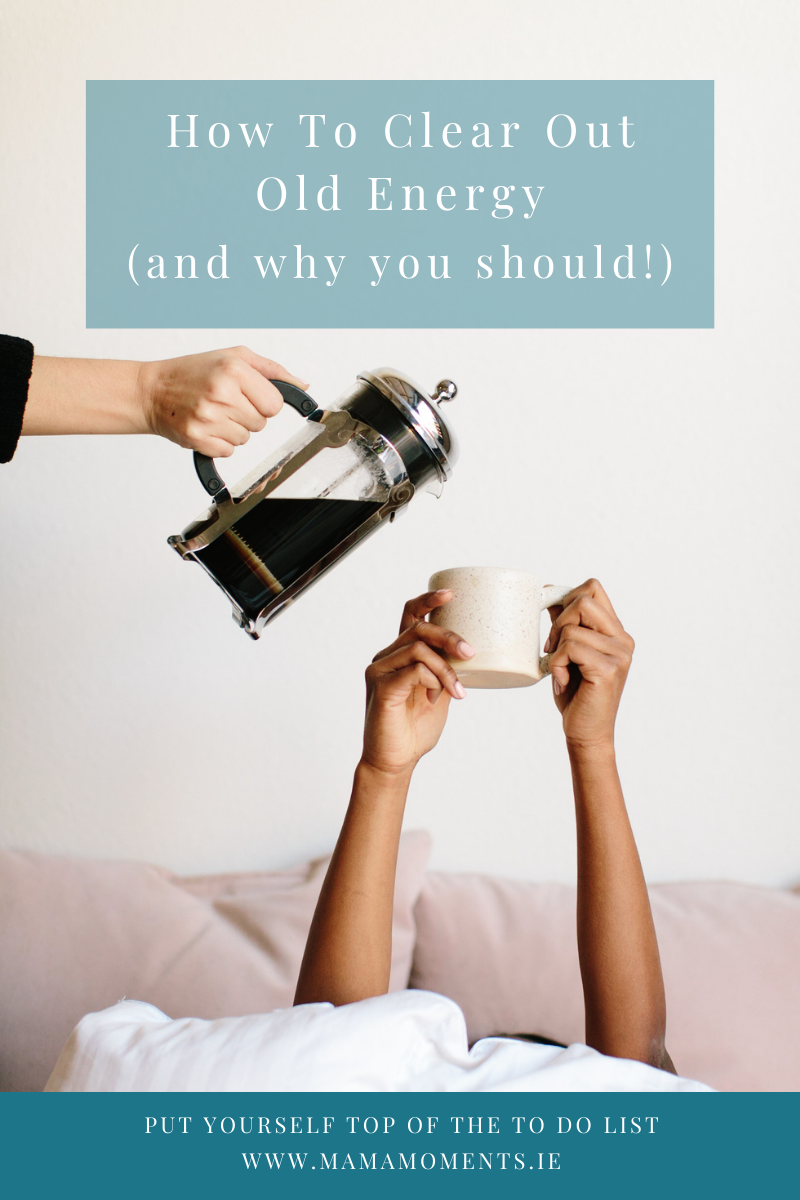 Have you ever felt yourself buzzing with a nervous energy? The kind of energy that attacks your ability to concentrate, hold a proper conversation, or even think straight. An agitation you can't explain. It could very well be stress, anxiety, or an inner turmoil nibbling away. It could also be a build-up of old, poor, and negative energy.
We are all a big bundle of energy, be it our own or that of others. And we may very well be cruising through our days under this massive rattling marble of energy which is wholly unnecessary. Remember, many of us naturally soak up the energy of others, whether we like it or not. But this energy could be a build-up of our own negative power from stress, insecurities, anxiety, or the remnants of the morning battle to get the kids out the door to school. It could also be an unwanted stockpile of bad juju as we embrace the tension from others we pass in the supermarket, or from that hour long phone call with your stressed best friend who didn't get the job. Needless to say, we all need to clear our energies. Out with the old, in with the new.
Why Should We Clear Our Energy?
Moving through various toxic environments can have a profound affect on us. And I'm talking about the simple scenarios which we often overlook as being toxic such as social media (being caught up in a Twitter spat is deadly), school gate bullies (the vulnerability and isolation of being targeted as a parent is heavily wounding), or a familial fallout. The energies released and consumed in these situations can linger longer than we'd like and become cemented if we don't shift the negativity.
This unhelpfulness can bring us to a dark place - pessimistic thinking, emotionally volatile, with a guard so highly built we no longer let anyone in. Now that is a place none of us want to be in. But there is a solution and that is being aware of when our energies are in a low place and clearing out those old, stuck, and dark energies which serve no purpose except to pull us down.
How to Clear Stuck Energies
To allow our positive energies to thrive and multiply, we should release the negativity surrounding our minds, bodies, and space. Try these methods to clear your body of negative energies and also the space around you.
1. Develop a Meditative Practice – Meditation is a great reliever of stress and can ultimately balance our energies in a healing and positive manner. By developing a ritual of practicing meditation in the morning or evening you are giving your mind and body time to minimise stress, down-regulate your emotions, and become more aware of the buzz of those happy energies available to you.
2. Reframe Your Mindset – We talk about negativity and ultimately the human mind is predisposed to the negativity bias. Naturally we may amplify a negative situation because our brains are designed that way. But, if we reframe our mind to acknowledge that all emotions, all energies, are valid to a degree and are there for a reason, we can accept that low energies can have their part to play also. Instead of forcibly declaring negativity to be the root of our problems, we can accept that they have a part to play in us magnifying, needing, and enjoying those positive, high energies we hold more dearly.
3. Bathe – Most of us love a good soak in the tub with our Himalayan salts or detoxifying seaweed bath but did you know that taking a bath is an excellent way to clear your body of old energies which are clinging on? A literal cleansing, a bath is a wonderful way to purify your body of negative energy.
4. Say No – Our boundaries play a large part in how our energies are stored and whether negative energy consumes us. Without boundaries we are letting everything in but not everything will be of benefit to us. Try to say no more, respect your own boundaries, and protect your energy in this way. Every time you say no or manoeuvre your life in a way that is beneficial to you, you are clearing old energies.
5. Check in on Yourself – It can be amazingly easy to forget to check in on what we need for our body or mind. Remember to be mindful of your own needs because the less you consider yourself, the quicker that lower energy can overtake you.
6. Visualise the Clearing – Close your eyes and imagine your body. Visualise the negative energy stored in your head, your shoulders, your arms, fingers, torso, legs feet. Scan your body from head to toe and as you do release the negative energy. Visualisation is a powerful tool in clearing and harnessing energy.
7. Create a Bubble – Another visualisation vital to protecting your energy is to imagine a protective bubble surrounding your body after you have cleared your mind and body of all negative energies. This bubble is a protective shield, a barrier to external forces which may impact on your energy.
8. Carry Crystals – By carrying an amulet such as a quartz crystal or black tourmaline you are giving low energy somewhere to go. The crystal will absorb these energies leaving your body and mind free of their potent power. Just remember to clear your crystals frequently by soaking them in salted water with intention, followed by placing them in bright sunlight.
9. Nature Therapy – There's a reason we say going for a walk blows away the cobwebs! By stepping out into nature you are actively heightening those positive energies and blowing the low, unwanted energies away as you soak up the sunlight and the wonder of the natural world.
10. Clear Your Space – When you have cleared your body and mind of old energies, remember to clear your home, your office desk, where you sleep, even your car. Those old energies can cling on in the dark corners of our homes. By clearing your space you allow high energies to thrive. The simplest way to do this is burn dried herbs, such as sage, or incense with intention. Allow the smoke to filter into every corner of your home. Place crystals in negative energy hotspots or make noise as you walk through your home by banging or clapping to disperse low energy. Or even clear out clutter! Literally and figuratively clearing your space!
Energy Blog Series