"To all you introverts out there, do not feel embarrassed or boring for being a person who prefers things that are hygge."
- Meik Wiking
The October box is my favourite of the whole year but then I am an Autumn person through and through, I love this time of year when I can embrace layers, cosy up with blankets and light a candle on my desk while I work.

The October box this year is The Hygge Box and is inspired by the Danish word hygge (pronounced hyoo·guh) which is all about creating an atmosphere of cosy, contentedness.

I had so many messages from people who got their box today saying they can't wait till bedtime 🤣 (keep reading to find out why!)

And so, to the reveal ....
The Hygge Box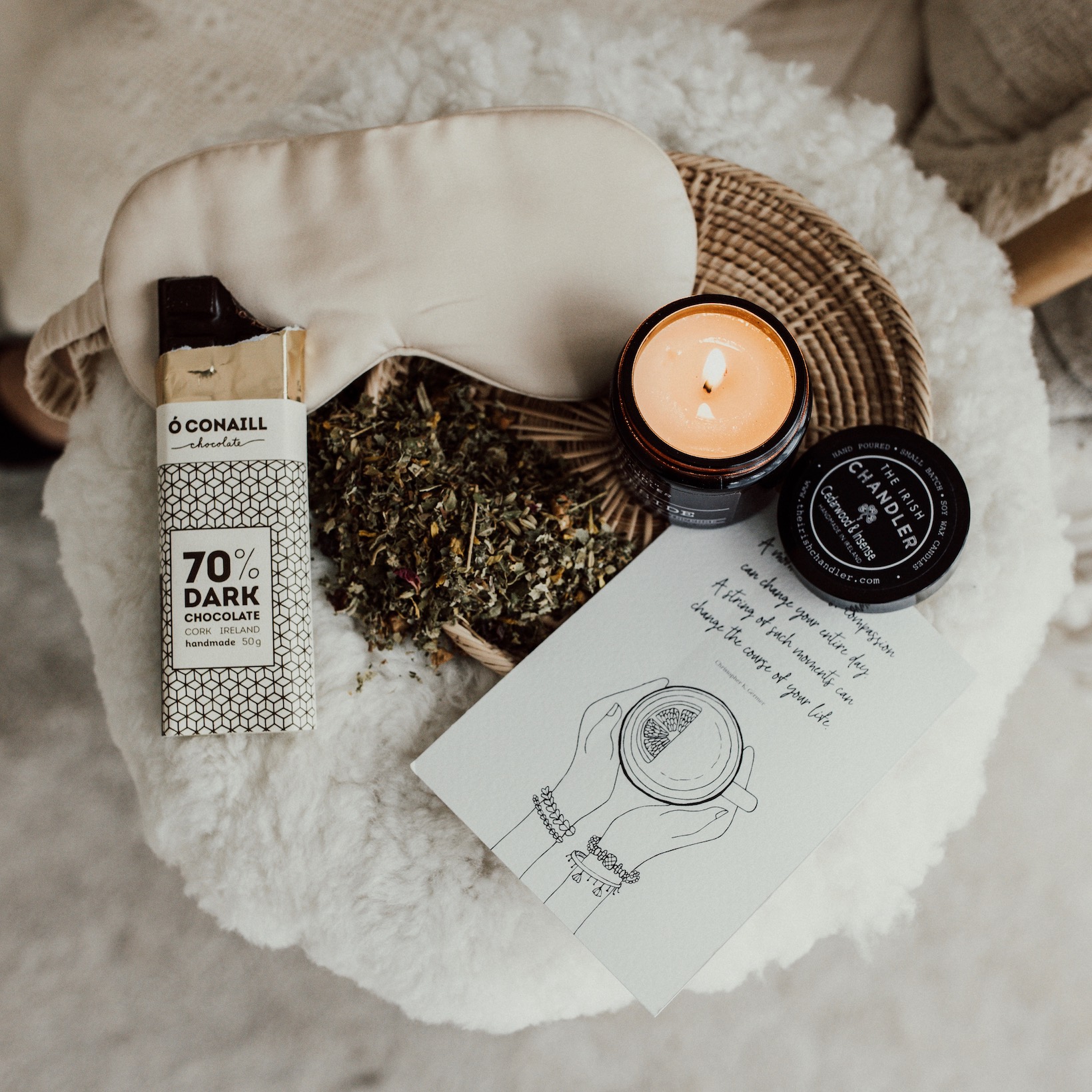 The products included in The Hygge Box were carefully chosen to help you create the perfect hygge mama moment.

They are (of course) all from small Irish businesses and two of the products were included in boxes in 2020 and are back by popular request! I love returning to suppliers I've worked with before to support them, these last 18 months have been incredibly hard on small businesses so every order makes a difference to someone's business and their family.

Keeping reading to find out more ...
Jo Browne bamboo silk eye mask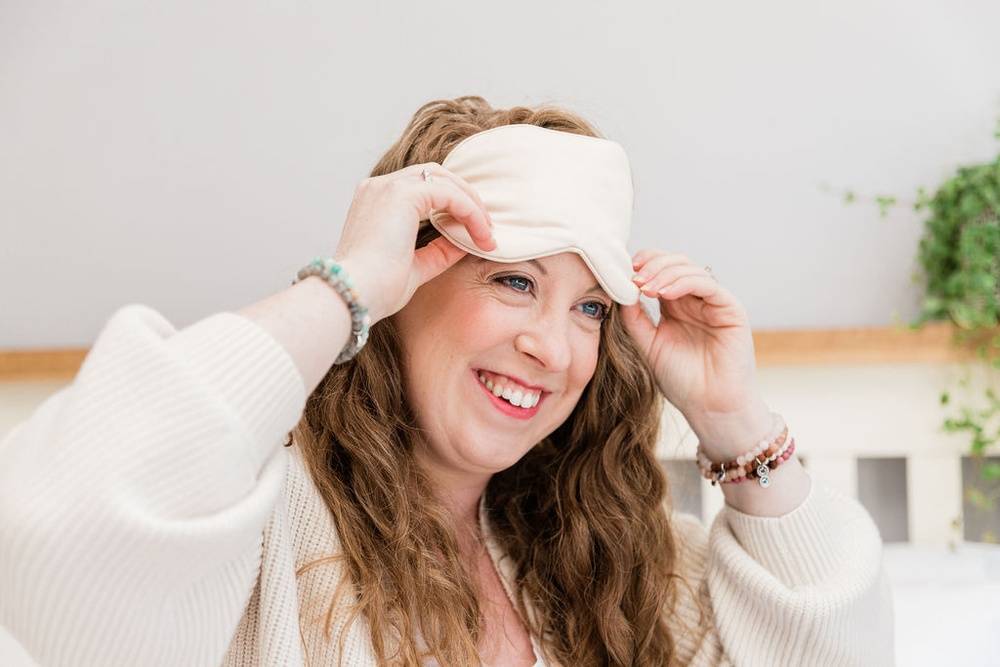 The first product of course was our sneak peek product ... the gorgeous bamboo sleep mask from Jo Browne. Made from ethical bamboo but feels exactly like silk - this sleep mask is the height of luxury.

This product alone has resulted in my DMs hopping most of the afternoon!

"The eye mask is gorgeous!" - Mary
"Is it bedtime yet so I can try that eyemask?!! The softest thing I've ever felt!" - Triona
"The eye mask is so luxurious! I'm looking forward to bed tonight 😆" - Emer

Jo Browne was founded by Joanne Browne in 2016 and offer a range of luxury natural products including skincare and bedding (I got her bamboo sheets for my birthday and they are divine - it's like sleeping in a hotel every night!!).
The Irish Chandler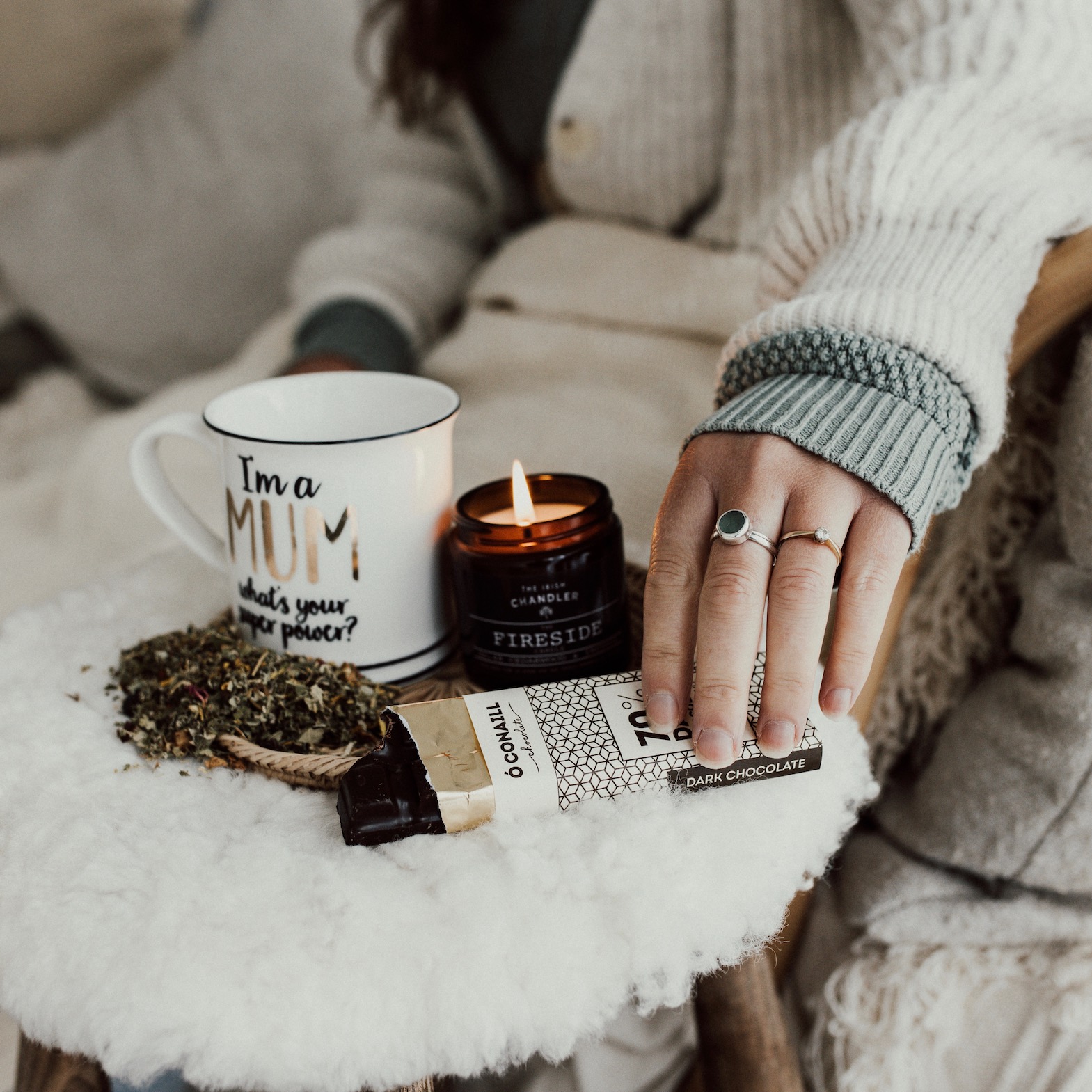 I adore The Irish Chandler candles and have included them in the box several times since Mama Moments started back in 2018. The Fireside candle is a limited edition run and is the perfect addition to The Hygge Box with scents of cedarwood and incense.

(You can also buy the Fireside candle individually directly from my website, so if you love it as much as I do you'll know where to come for another one!)

Based in Co. Clare, each candle is made with natural soy wax, hand poured into an amber jar with cotton core wicks. The beautiful labels are also designed and printed in-house and carefully attached to the jars by hand.

House of Tea
Could there have been a more perfect tea to include in The Hygge Box than The Cozy Comfort tea from House of Tea? Caffeine free and with aromatic anise-honey flavours, this is perfect to enjoy curled up on the couch after a long day. One of my favourite teas, this is also available in our New Mama Box.

House of Tea is a family run business based in Carlow and they have always gone above and beyond for me - delivering many of my orders by hand - they are the best!
Mama Moments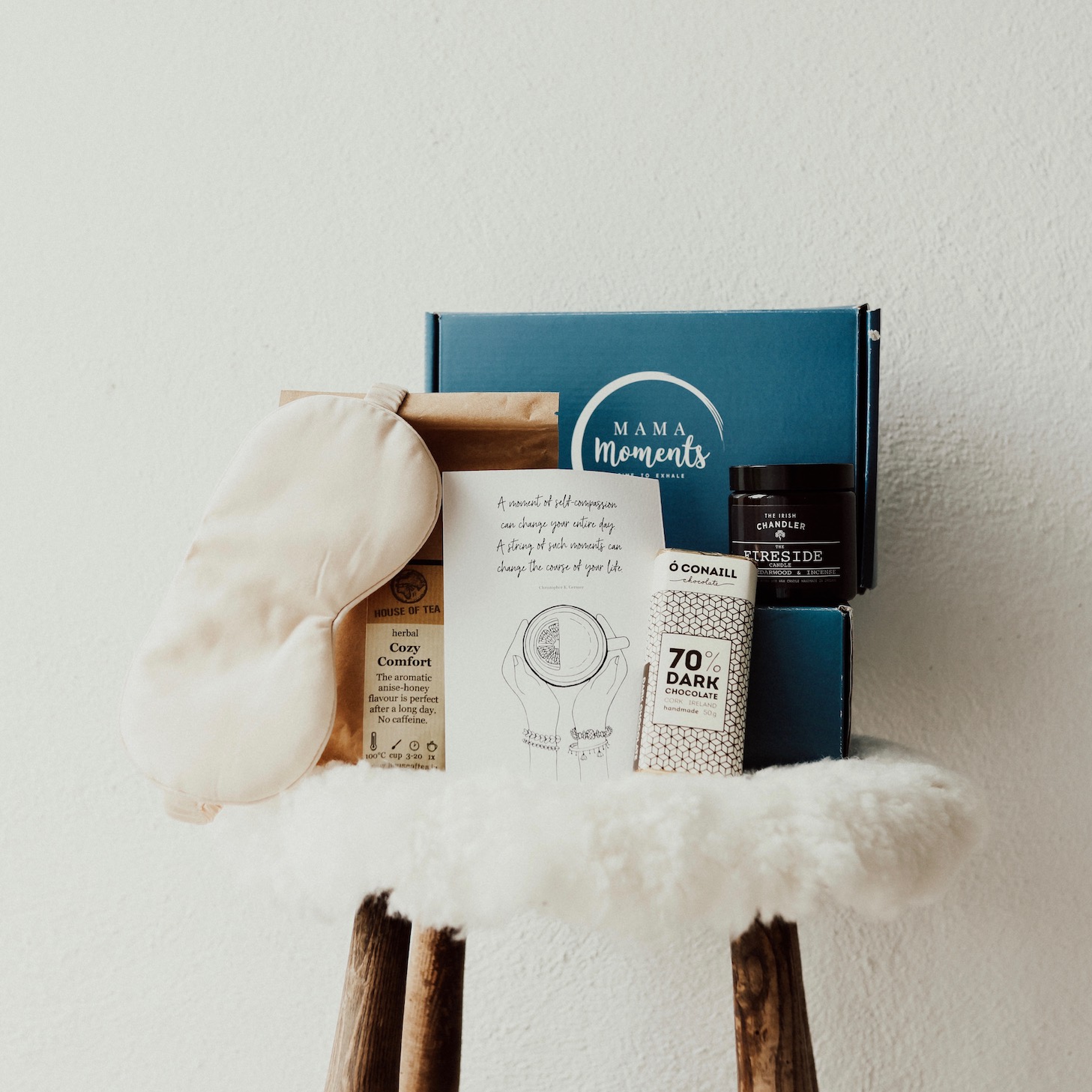 A brand new Mama Moments product!

This gorgeous print was created from an illustration inside The Gratitude Journal and will hopefully encourage you to show yourself more compassion, and to realise that the little moments really do add up and compound overtime to create huge shifts in your life.

"A moment of self-compassion can change your entire day. A string of such moments can change the course of your life."

This A6 print is available for individual purchase from the website and makes the perfect mini gift for friends, neighbours or teachers.

(ps did you know that you can now purchase a whole range of products individually from the website? Meaning you can build your own custom box from scratch!!)


O'Conaill Chocolate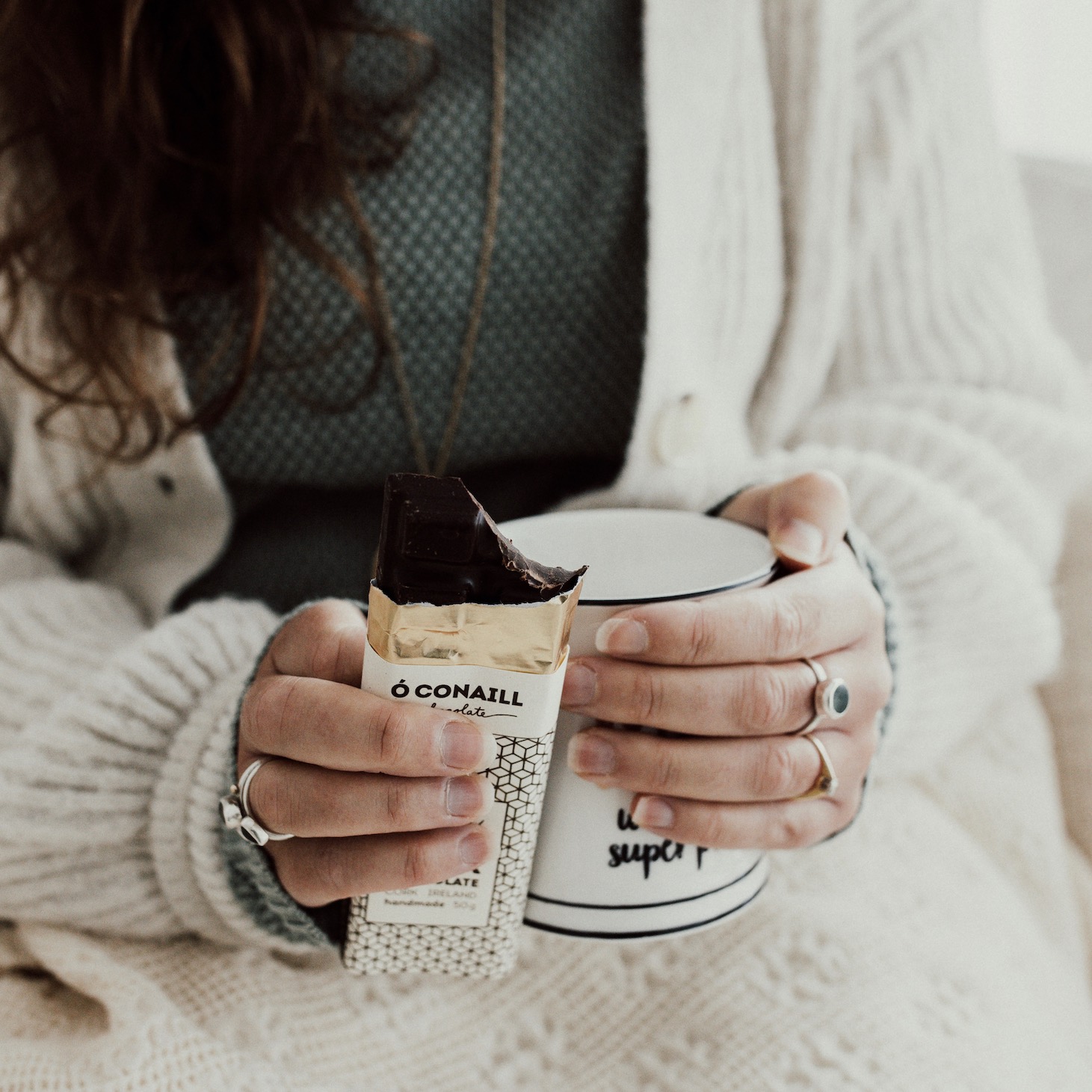 And the final product in The Hygge Box is the divine dark chocolate bar from O'Conaill Chocolate. Is there anything better than snuggling up on the couch with a hot cuppa and a delicious treat on a cold, dark evening?

O'Conaill Chocolate is a family business based in Cork and I came across them during the summer when myself and my husband stayed in The Kingsley Hotel (a recommendation from a lovely instagram follower!) to (very belatedly!) celebrate our anniversary. They have a huge range of chocolates all of which are delicious!
Purchase This Box
If you want to pick one of these boxes up for yourself or as a gift, click the image below!
Remember shipping is free worldwide!!