The incredible course by Mama Moments - as featured by Irish Country Magazine!
What if there was some way that parenting, exercising, working and just living your life could become a whole lot easier ... simpler … effortless even?

What would that mean for you? Imagine how that could affect your whole life? Your family's life?
Cycle syncing your self care is the missing piece.
And Unlock Your Cycle will teach you how to implement it step-by-easy-step.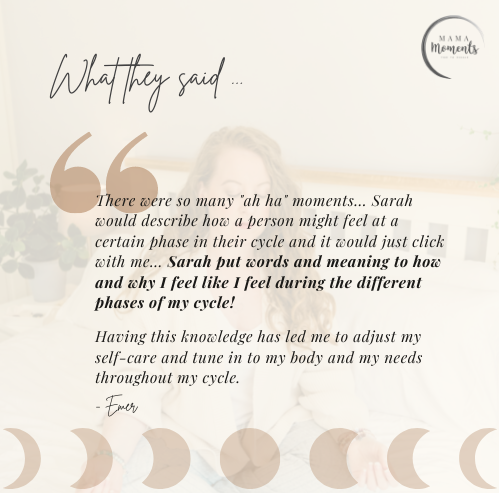 Every teaching of the course is full of aha moments that will have everything finally clicking into place for you. 
You'll wish you knew all this years ago!
But it's not too late to learn it now.
This is going to change everything for you and your family
(and it is crucial knowledge to learn if you have a daughter - let's give them the self awareness and understanding we were denied!).
Everyone has heard about the circadian rhythm, our 24 hour body clock.
The world is designed around it!
It's the only body clock men have.
But women in our menstrual years have a second body clock, our 28 (ish) day cycle - our infradian rhythm.
If we learn to live in harmony with our infradian rhythm this helps us prevent burnout, the natural result of being in the 'always doing' energy which is so common for mothers.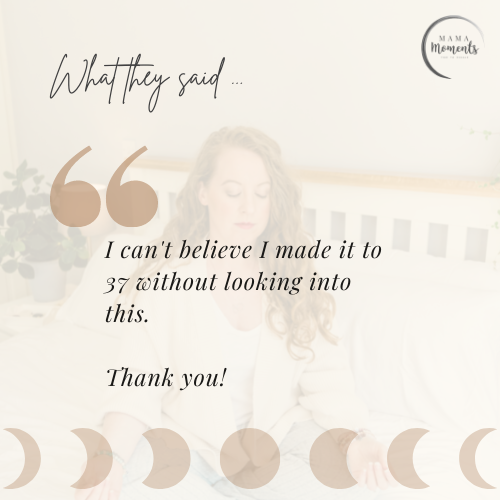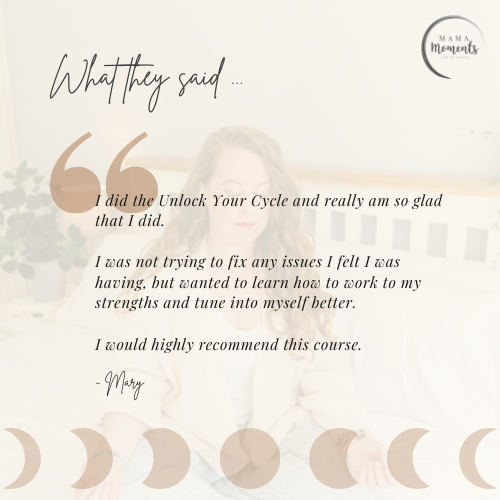 Finally understand your infradian rhythm and how it affects everything!
Understand why parenting is so easy some weeks and you're losing the plot other weeks.

Understand why you are super productive, knocking tasks off that to do list left, right and center some weeks, and other weeks you can barely get a load of laundry sorted.

Understand why your exercise routine works for you some weeks and not others.

Understand why you can 'stick' to your diet some weeks and not others.

Understand why you are so self critical some weeks and not others.
Finally understand your infradian rhythm and how it affects everything!
It affects 6 key systems of your body (your brain, immune system, metabolism, microbiome, stress response and fertitlity) and it causes your brain to change by up to 25% over the course of a single cyle!
(and we wonder why we feel like a completely different woman from one week to the next ... we literally are!!)
Those brain changes offer you unique gifts during each of the 4 phases of your cycle.
Times when things like .... filling out claim forms, cleaning out the kids' rooms, giving a presentation, asking for a raise and even playdates are SO much easier than if you did them at a different point in your cycle.
Chances are that right now you think doing those epic clear outs or blowing through everything on your to do list as something you do 'at random'.
And (equally likely) when you have those days when you're feeling low on energy or feeling blue that you criticise yourself for being lazy and try to chide yourself to 'pull your socks up'.
But what if I told you that there was a rhythm to the 'good days' and 'bad days'?

What if I could show you how to unlock your cycle so that there was just a constant flow of energy in full alignment with yourself?
A way to lean into your cycle rather than work against it?
Imagine understanding that your mood, energy & actions were not unpredictable, but completely predictable!
And that you could actually lean into them, plan for them ... and that knowing how to do that would make life SO. MUCH. EASIER!

Imagine finally living in harmony with yourself, effortlessly ... rather than being constantly at war with yourself, stuck on that hamster wheel of constant motion and achieving nothing?


I want you to finally know everything that you should have been taught at puberty.
I want you to finally learn ...
How you can make subtle shifts to your self care to support your changing needs throughout your cycle.

How your brain offers you unique gifts and perspectives at different phases of your cycle (and how you can leverage that!).
This is going to change everything for you!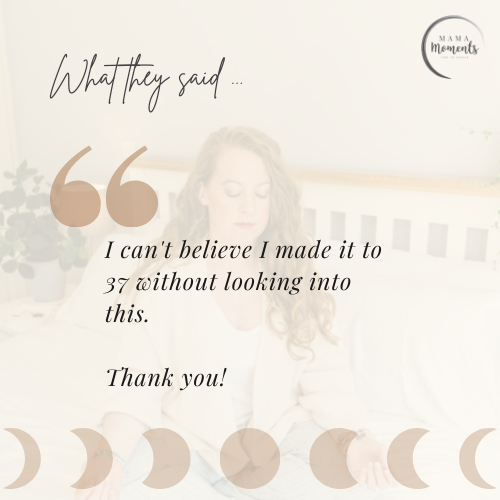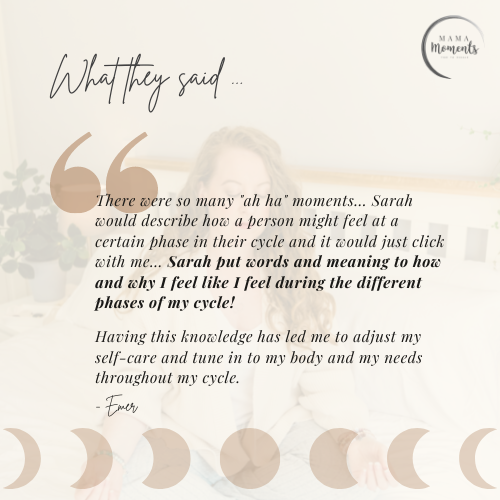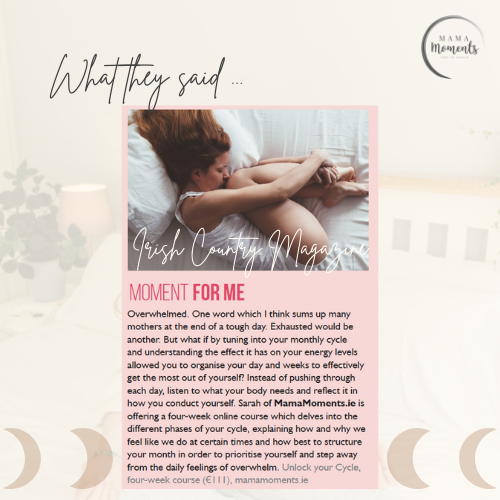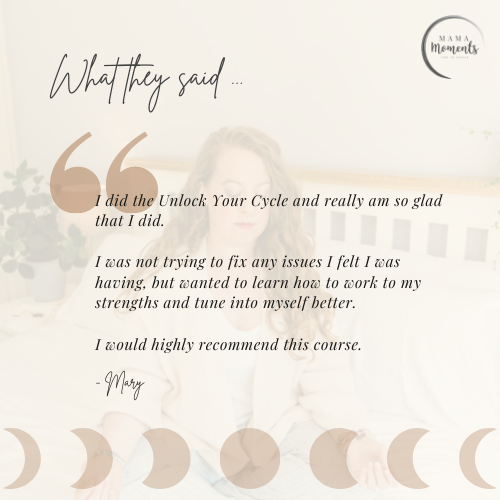 The details …
Once purchased you will receive an email inviting you to join a private Facebook group where all the teachings, resources and live events will take place.
Each module contains a teaching video and additional resources to help you integrate what you are learning into your days and weeks.
There will be 7 teachings on:
The Follicular Phase

The Ovulatory Phase

The Luteal Phase

The Menstrual Phase

How To Track Your Cycle

How To Plan Your Calendar In Alignment With Your Cycle

How To Get Others (Your Family) On Board With Your New Approach To Life
There will also be extensive resources shared including:
A downloadable tracker to help you start tracking your own cycle.

A downloadable weekly planner to help you plan in alignment with your cycle

4 downloadable at-a-glance 'cheatsheets' for each cycle phase

A meditation playlist for each specific phase of your cycle

Blog posts with overviews of each cycle phase

Reference books for further reading

Guides for dealing with specific hormonal issues

And yoga playlist to help ease PMS.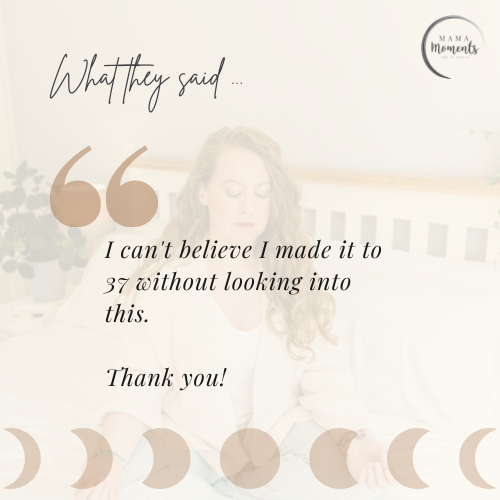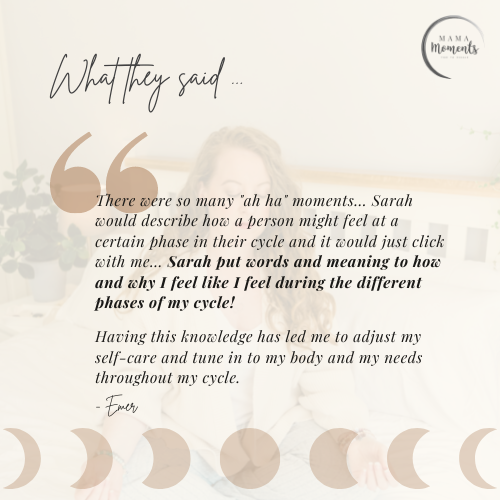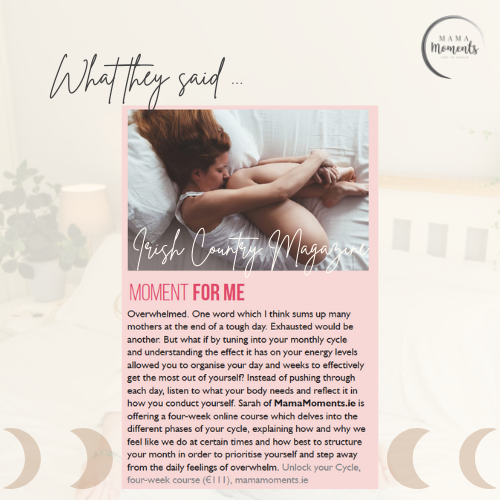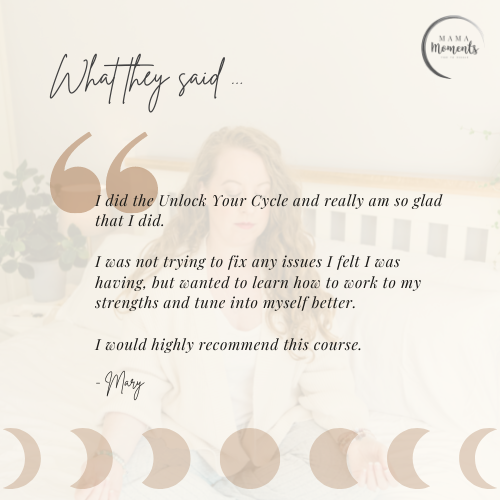 Are you ready to Unlock Your Cycle? 

This is going to change everything, forever!